NanoCharcoal
Nano Charcoal — The World's No. 1 Eco-friendly Desiccant
Nano Charcoal, a division of Magic Industries Ltd. – is a multi-functional,
high-performance and Eco-friendly desiccant. Nano Charcoal uses bamboo as source material, is 100% natural, non-toxic and adsorbs more moisture than any other product in the market to restrains mold growth and prevent oxidation on your product.

Its high adsorption performance together with its patented Nanoscience Technology makes Nano Charcoal worldwide the No. 1 Eco-friendly desiccant.

Nano Charcoal is a registered trademark and has obtained innovation patents for Taiwan, China, and Germany.
High performance through Nano-Technology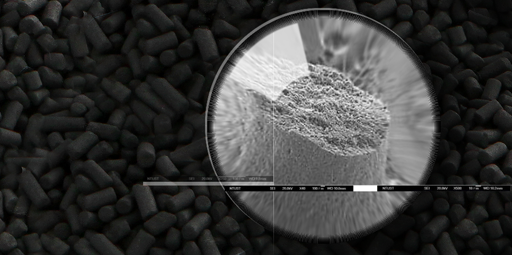 Adsorption is the adhesion of atoms, ions or molecules from a gas, liquid or dissolved solid to a surface. The larger the surface of an adsorbent on a molecular level, the higher and more effective its adsorption ratio.
Nano Charcoal uses a patented nano-science technology to restructure the particle composition of bamboo charcoal and maximizes its molecular surface. This results in an extremely high adsorption ratio – making Nano Charcoal the most effective adsorbent on the market.
Scanning electron microscope images of Nano Charcoal
Microscopic pores abservation of a
semi-finished Nano Charcoal
(SEM, Magnification: x 250)

Micro structure of a crosscut bamboo
(SEM, Magnification: x 165)

Side vertical cut of a Nano Charcoal
(SEM, Magnification: x40)

Internal micro particles concentration of a
pellet form Nano Charcoal
(SEM, Magnification: x 500)
Characteristics
Sustainable:

100% eco-friendly product made of natural bamboo for consumer and industrial application

Moisture control:

Restrains growth of bacteria, mold, and oxidation by adsorbing moisture via microscopic nano pores.

Eliminate odor and VOCs:

Simultaneously absorbs more than 70 kinds of VOCs that are created after production and during transportation, including toluene, formaldehyde, and DMF to protect humans and our environment from harmful gas exposures

Self-recharging ability:

Ability to rejuvenate allows continuous reuse in packaging, shipping, and storage for further moisture absorption.

Recyclable:

biodegradable; can be reused as plant fertilizer as nutrients

Safe:

Non-poisonous, non-toxic, odorless, and DMF free
Both versatile and effective
Nano Charcoal is available as pellets or powder form and suitable for both consumer applications as well as for industrial use.
Customer use:

Moisture adsorbent
Deodorization
Drinking Water Purification
Air Purification
Discoloration of Food Products

Industrial use:

Waste Water Treatment
Solvent Retrieval
Gas/Vapor Separation
Poisonous/Toxic Gas Filtration
Catalyst Carrier
Quality you can rely on
Nano Charcoal has obtained the European Chemicals Agency (ECHA) of CAS.

It also has passed 173 SVHC chemical exams under REACH's regulation.

Nano Charcoal does not contain Cobalt Dichloride, Dimethyl Fumarate, Di-methyl Formamide (DMF), Heavy Metal materials or any other harmful chemical substances.
Related Topics
Worldwide No. 1 - 84% moisture adsorption, free of chemicals and 100% eco-friendly

World's first high-performance adsorbent bar that fits shipping containers perfectly

Customer Support

Contact us for service or professional support

+886-4-2314-5686 

admin@nanocharcoal.com

Nano Charcoal
75 Ming Lee Street, West District Taichung, Taiwan